Tropiclean shampoons
Posted: 22.10.2021 05:36
Dear customers, we are pleased to introduce you to a new high-quality product for your pets - Tropiclean shampoos. Manufactured in the USA, have long established themselves as excellent quality at a reasonable price, hypoallergenic, with a pleasant smell and maximum natural composition. The line includes shampoos for any type of coat.

TropiClean grooming products are enriched with our mild coconut cleanser to help provide a gentle, yet effective clean. Fresh tropical fragrances will leave them smelling clean and ready for snuggles.
Coconut Shampoo and Conditioner is made with papaya, coconut, and other tropical ingredients to pamper your pet in a rich, luxurious lather. Our mild coconut cleanser is one-of-a-kind, just like your pet. Coconut gently cleanses fur of dirt and oils from playtime and head pats, while papaya and kiwi replenish the natural moisture balance of the skin and coat. Rich botanical conditioners result in a healthy sheen, while preventing dry skin and tangled fur. With routine bathing, this luxury 2-in-1 shampoo and conditioner will keep your pet's skin and coat stay soft, shiny, and looking great.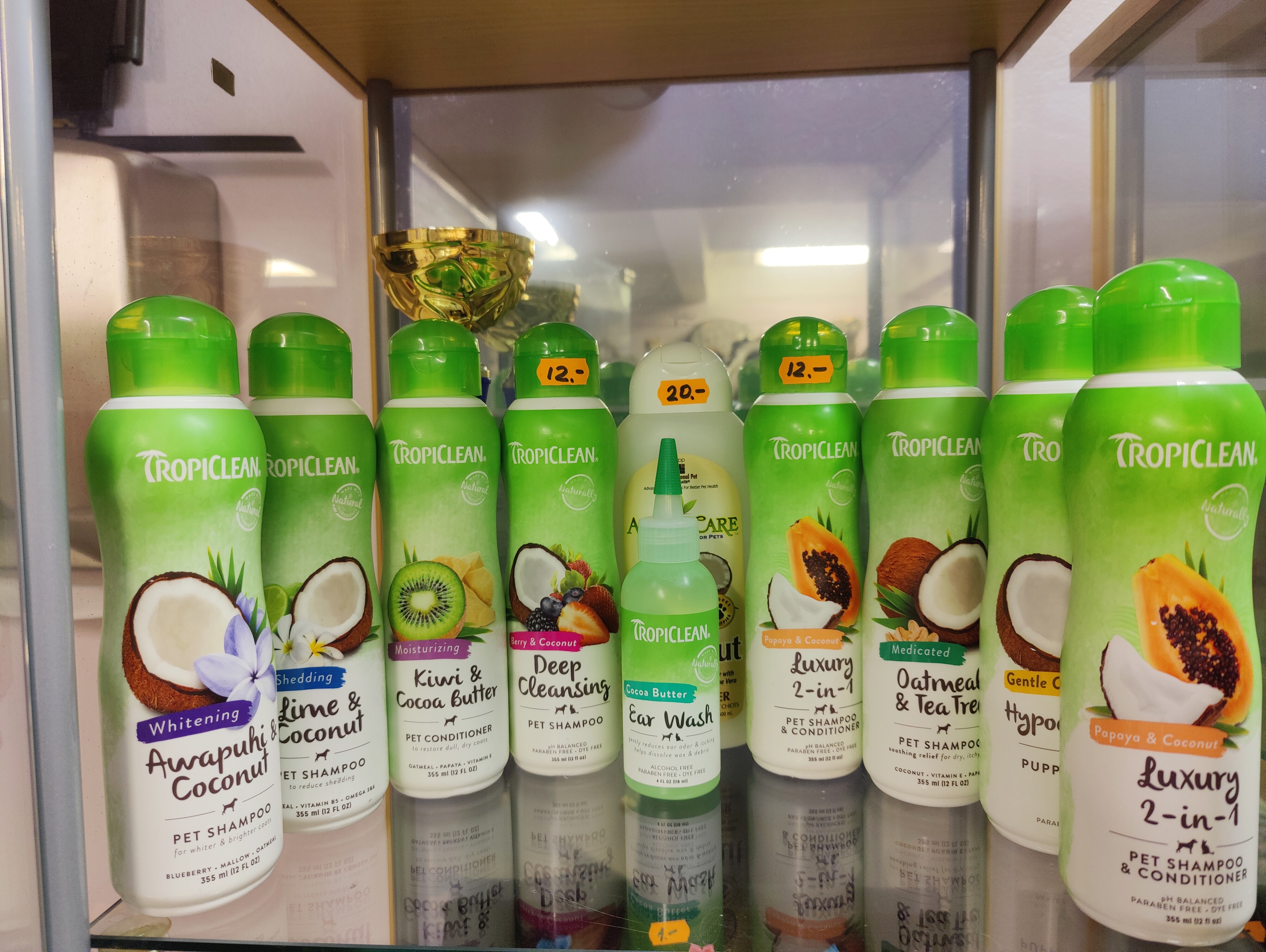 Cocoa Butter Pet Conditioner keeps your pet's coat silky, shiny and smelling fresh. Cocoa butter and kiwi provide natural moisture for a coat that loves to be cuddled. Oatmeal and mallow soothe and effectively nourish skin while papaya keeps your pet smelling as lovely as they look. Great for dogs and puppies, cats and kittens, and safe for their humans, too!
TropiClean Lime & Coconut Pet Shampoo with Omega 3 & 6 nourishes their skin to effectively reduce shedding and provide a deep refreshing clean. Pomegranate and awapuhi help remove excess hair and eliminate tangles, while oatmeal and coconut keep her skin and coat healthy and happy.